"Ramez Naam has birthed a globalized genre with this incredible trilogy." – Cory Doctorow
The award-winning Nexus trilogy is now complete! In a future not so far from ours, the ingestible and illegal drug/technology called Nexus can link human minds electronically, wirelessly, nearly telepathically. There are some who want to improve it, some who want to eradicate it, and others who just want to exploit it. From San Francisco to Bangkok, from Beijing to Delhi, Nexus is a thrill-ride through a world on the brink of explosion.
BOOK 1: NEXUS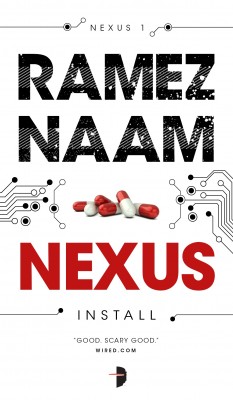 Winner of the 2014 Prometheus Award!

Winner of the Endeavour Award
Shortlisted for the Arthur C. Clarke Award
Shortlisted for the Kitschies Award
"The only serious successor to Michael Chrichton." – Scott Harrison
"Good. Scary good." – Wired  more ->
"One of the Best Books of 2013″ – NPR more ->
"Provocative… a double-edged vision of the post-human." – The Wall Street Journal  more ->
"Starred Review. Naam turns in a stellar performance with his debut SF novel… What matters here is the remarkable scope of the story and its narrative power." – Booklist  more ->
"A superbly plotted high tension technothriller… full of delicious moral ambiguity… a hell of a read." – Cory Doctorow, Boing Boing  more ->
"Gripping near future speculation… All the grit and pace of the Bourne films." – Alastair Reynolds
"A sharp, chilling look at our likely future." – Charles Stross
"A lightning bolt of a novel. A sense of awe missing from a lot of current fiction." – Ars Technica more ->
"A brilliant book, full of mind-blowing tech drawn in highly believable fashion. …every time you think he'll finally let you breathe the stakes rise even higher." — Jason M. Hough, New York Times besetselling author of The Darwin Elevator
"Mesmerizing" – Publisher's Weekly
BOOK 2: CRUX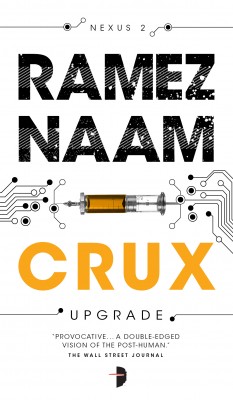 "A blisteringly paced technothriller that dives deeper and even better into the chunky questions raised by Nexus. This is a fabulous book, and it ends in a way that promises at least one more. Count me in." – Cory Doctorow, BoingBoing (read more)
"Smart, thoughtful, and hard to drop, this richly nuanced sequel outshines its predecessor with a wide cast of characters and some complicated, uneasy questions about power, responsibility, and the future of humanity." – Publishers Weekly (read more)
"Potent like Naam's vividly imagined nano-drug Nexus, Crux is a heady cocktail of ideas and page-turning prose. It left my brain buzzing for days afterwards." – Hannu Rajaniemi, author of The Quantum Thief
"Crux is an outstanding speculative fiction adventure … in the same league as Michael Crichton and Daniel Suarez. Put it at the top of your summer reading list!" – Scientific American (read more)
"Sublime. This book is speculative fiction at its finest.. Mr. Naam masterfully mobilizes the zeitgeist of contemporary political and tech culture.. Tempts readers with equal parts dread and optimism. This is not a book to be missed."  – Page of Reviews (read more)
"Readers of Ramez Naam's techno-thriller NEXUS will not want to miss the awesome sequel, CRUX." – Kurzweil AI (read more)
"Crux does the work of great science fiction. It makes the reader look closely and critically at what kind of world we're building here and now." – Kent Peterson(read more)
"Naam's writing is always strong, fluid and sure. With gripping, heart-pounding action scenes and muscle-binding tension normally reserved for horror stories, Crux is a book you don't want to miss." – Always Unmended (read more)
"A brilliant and complex piece of cyber fiction and political suspense, Crux is the sequel to the equally brilliant Nexus." – Libriomancer's Apprentice (read more)
BOOK 3: APEX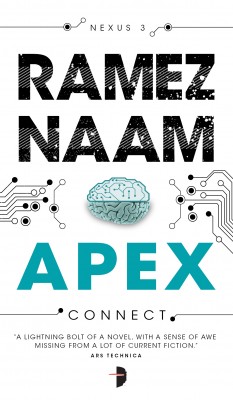 The Explosive Conclusion to Nexus and Crux
Global unrest spreads through the US, China, and beyond. Secrets and lies set off shockwaves of anger, rippling from mind to mind. Riot police battle neurally-linked protesters. Armies are mobilized. Political orders fall. Nexus-driven revolution is here.
Against this backdrop, a new breed of post-human children are growing into their powers. And a once-dead scientist, driven mad by her torture, is closing in on her plans to seize planet's electronic systems, and re-forge everything in her image.
A new Apex species is here. The world will never be the same.
"I should have been asleep hours ago, but wow, APEX would not let me go." – John Carmack, inventor of DOOM and CTO of Oculus VR
"If a 20th century technothriller was "an sf novel with the president in it," then a 21st century one has the president, the premier of China, India's Prime Minister and the whole, multipolar world's politics, intrigue, violence and salvation. Ramez Naam has birthed a globalized genre with this incredible trilogy." – Cory Doctorow, BoingBoing